Charter Bus Indianapolis
The best rates for a full-day bus rental in Indianapolis, Indiana, are only here! An affordable world-class Indianapolis charter bus rental is the best treat you can give yourself and your group trip if this is your first time in Indianapolis, Indiana. Because let's be real, using public transportation will only result in delays in your schedule. In contrast, we will provide you with a full-size charter bus in Indianapolis that will do pick-ups and drop-offs on time so that you don't lose precious time you can use to get to know the corners of the city waiting for transport that takes you to the next stop. Indianapolis charter bus rentals are the perfect choice for group transportation for any event. Our shuttle buses can cover sporting events, executive travels, weddings, birthday parties, and other special events. Even for smaller groups, it's ideal to hire our charter bus services, so they have more room for luggage and last-minute passengers. You will have the best ride without the annoying congested traffic. Our professional drivers know Indy like the back of their hand, so it would be easy for them to avoid traffic jams. Additionally, you will also have a relaxing ride because you can listen to the music you like on the road. Our shuttle buses' DVD players are entirely at your disposal. By hiring any of our transportation services, you're getting a high-quality rental service. Whether a charter bus rental or a party bus rental, your experience with our service will be unbeatable.
Charter Bus Exterior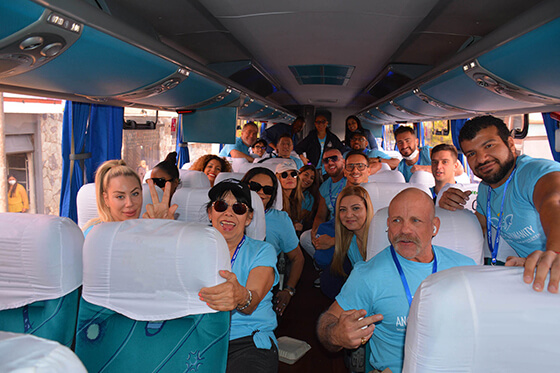 Charter Bus Interior
Charter Bus Interior
The perfect charter bus to get to know Indy
Indianapolis is one of the largest cities in the US. And it is as well the largest city that doesn't lay on a navigable river. Here you will find many places and events for entertainment. For history and art lovers, the perfect choice is the city's museums. The most renowned ones are the Living history Museum, Indianapolis Museum of Art Art lovers, the Indiana War Memorial, the Eiteljorg Museum, and the Indianapolis Motor Speedway Museum, which is very convenient because it's open year-round. There's also a children's museum in the city called the Children's Museum of Indianapolis, and it's an unmissable stop if you are coming with kids. This is the world's largest children's museum, and the kids will love their exhibitions! There's even a real steam locomotive called the Reuben Wells. Another good stop for kids will be the Indianapolis Zoo, which has so many different animals and a beautiful botanical garden. The events you probably won't want to miss are the NTT IndyCar series, which is a big race that takes place every year in the city. Another renowned race is the Indy 500, which you can attend if you are in Indy in May. If you're not interested in sports but in more cultural events, Indy also offers top events like the Winterfest, Broad Ripple Art Fair, Indy Pride, Indy Film Fest, and Vintage Indiana Wine and Food Festival. Our full-size charter bus in Indianapolis will take you and your group trip to every place you want to visit in the city. You just have to send us your schedule, and we will work hard to make it on time to everywhere.
We can also drive you to the best photo spots in Indianapolis, Indiana. There's no way you come to this beautiful city and don't update your feed. Some places you can go with us to take your next selfies in the city are the Eagle Creek Park, Holliday Park, Coxhall Gardens, Benjamin Harrison Presidential Site, and the Indiana State Soldiers and Sailors Monument. Our shuttle bus rentals in Indianapolis are also available for trips to nearby cities. So if you want to get to know more places outside Indy, you don't have to use public transportation. Even though Indianapolis, Indiana has a good transportation system, it will mean delays in your schedule and discomfort for your passengers. But on board our charter bus, it will be possible for them to rest after a long day trip in our on board restrooms, and nothing is better for long trips than comfortable reclining seats, so your back won't hurt. Well, we got that, especially for you! We're the charter bus rental company you should rely on for your next trip to Indianapolis, Indiana. Reach out, and our agents will happily give you a free quote for this service.